24+ Hours
This course includes over 24 hours of training and 7 different FX.
Skill Level
Beginner Level One course for new artists. 
Lessons & Projects
This course includes project files for you follow along.
Instant Access
This course is immediately available to All Access members. 
Course Breakdown
Lesson overview.
Light Burst FX
6 Lessons
Learn how to infuse light with magic! This effect is very brief, but there are a lot of fine details that will blow your mind once you see them.
Jason Keyser will guide you through Alex Redfish's workflow with breakdowns and additional insights.
Buy Now
Corona Shine
Look over the shoulder of Alex Redfish as he animates this magical light! Start by reviewing references and animate the core components.
Dissipation
After all the build-up, we move on to dissipation. Learn how to keep the excitement high, and use perspective to your advantage.
Revisions
Watch how Alex Redfish handles revisions. Let's change some things and try something new to make your animation even better.
Inner Shapes
Learn how to use mask layers to give you the freedom to set up your inner shapes without having to worry about clean outer edges.
Color & Glow
Take a look at the nice mix of base color, base glow, and highlight glow in this effect, by following Jason Keysers handy chart of colors!
Flipbook Creation
Making flipbooks in Animate can be a bit tricky to set up, so learn how to turn this animation into a 4x4 sprite sheet that's ready for the game engine.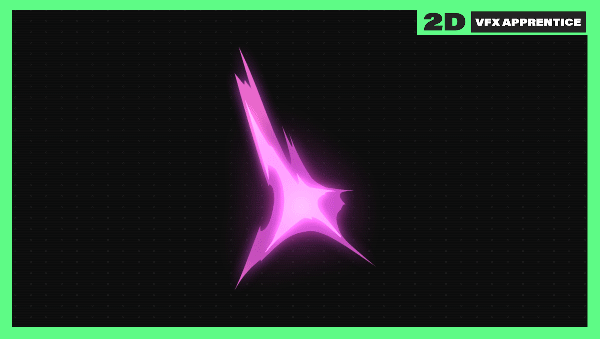 Fire Swoosh FX
5 Lessons
Even the simplest flick of flame can be full of fancy flourishes! Here you'll learn how to dissolve shapes while maintaining their appeal.
Breakdown Alex Redfish's amazing fire swoosh effect! These lessons will go through his step-by-step process of how he designs fire effects.
BUY NOW
Fire Effect Primary Motion
Start by creating a strong dynamic shape design of the primary form in this animation.
Follow along as Jason Keyser discusses the different tricks that Alex Redfish employs to push his shapes to the next level.
Secondary Bits
It's all about attention to detail as Alex Redfish designs the secondary elements of this fire swoosh effect.
Study the way he thinks and designs the dissipations in this effect. Having a variety of secondary shape designs helps break up your primary element and makes it look more complex, detailed, and polished.
Inner Shapes
Highlighting internal shapes for the fire can improve the quality of animations by creating areas of visual interest.
This lesson draws heavily upon the thick and thin design principles when creating internal shapes. It's important to create interesting variations within your shapes to improve upon the primary design.
Inbetweens
It's time to add the inbetweens to the fire swoosh animation!
Let's smooth out the motion by adding inbetweens. Don't stop being creative at this point! Boring inbetweens can hurt your overall animation.
Flipbook Creation
It's time to set up the final fire effect animation for export in Adobe Animate.
Jason goes through common features used with flipbooks in games. This will help you think and prepare in advance for how you will want to lay out your frame-by-frame animation.
Nether Poof FX
6 Lessons
Create dynamic and flowing cloudy puff shapes that eat away in a beautiful dance, with lighting and color that brings a magical vibe.
BUY NOW
Poof Effect Primary Motion
This effect is separated into two components. We'll start on the primary motion of the burst and flash frame element. Then we will focus on the smoke FX.
Retiming & Inbetweens
Work on retiming and smoothing the animation by creating inbetweens.
Learn how to refine rough animations with a technique commonly used in pose-to-pose animations.
Inner Shapes
Create stunning interior shapes through a technique that uses masking layers in Adobe Animate. Think about lighting and how it influences the design. Then use color intensity to portray energy.
Highlight Shapes
Adding tertiary highlight shapes creates the feeling of the effect in a three-dimensional space.
This will intensify the blinding flash and add the "wow" moment you want to achieve. But be careful not to add too many highlights and moving parts. It's easy to lose track of all of them while animating.
Color Adjustments & Glows
Focus on the tools and settings in Adobe Animate. With the use of filters, settings, and tools you can edit and change your effect non-destructively.
This allows you toexperiment and explore new ideas on the fly without changing the base effect that you already created.
Nether Poof FX Timelapse
Watch the original timelapse of Alex Redfish's Nether Poof animation process without any narration.
Poison Splat FX
5 Lessons
There are many ways to approach liquid effects. Learn some techniques to get a really dynamic flow for fluids that feels natural and appealing all at once.
This poison splat animation will be a little bit more advanced on the creative side than some of the other effects covered so far.
BUY NOW
Straight-Ahead Silhouette
Study the primary motion of a poison splat effect by Alex Redfish. Watch as he designs this straight-ahead animation.
Create strong silhouettes that integrate with the design, and allocate frames beforehand so you can finish the dissolve by the end of the animation.
Three-Dimensional Backside
Add more detail and volume to this effect with secondary shapes. Create the backface of the splat to give the impression of volume as a 3D object.
Learn how to design strong dynamic background shapes and pick up some techniques on the flow and motion of liquid effects. 
Edge Shadows
Create a sense of depth and volume to your liquid effect with edge shadow. Polish and soften shapes to make this effect truly feel like a 3D fluid splat.
Use blending layers, create interesting shape designs for the internal edge shadows, and improve the sense of motion and speed of this effect.
Color Adjustments & Glow
Polish your FX with color adjustments and glows to make them production-ready.
Learn non-destructive ways to improve the color design and visual appeal of your animated effects.
Poison Splat FX Timelapse
Watch the raw timelapse of Alex Redfish's Poison Splat animation process without any narration.
Dark Zap FX
3 Lessons
Violent aggressive shapes are a hallmark of dark magic FX. Have some fun animating some sharp, dangerous lightning bolt effects!
BUY NOW
Zap Effect Primary Motion
Design your own snappy zap FX. Focus on flow and shape design for creating fast electric zaps by controlling the motion and direction of your lines and shapes.
Incorporate spikes and sharp shape language to convey the dynamic motion and intensity of electricity.
Secondary Shapes & Glow
Enhance your zap effect with secondary shapes and glow that support the core of the animation.
Think about color combinations, transitions, and glow to show intensity.
Dark Zap FX Timelapse
Watch the raw timelapse of Alex Redfish's dark zap effect animation process without any narration.
Bubbly Charm FX
6 Lessons
Not all effects are intense and edgy. Sometimes a few, magically charming, effervescent bubbles are just what you need in your day!
Learn about making bubbles wobble and design an effect even when it's outside your comfort zone.
BUY NOW
Basic Motion Setup
Set up the core motion of the bubble effect by thinking about the squash and stretch animation principle.
Motion Cleanup
Define shapes through the motion cleanup process. Design the external and internal shapes of the bubble and test different motions and behaviors of this effect.
Shape Refinements
Define the line widths in your FX animation and learn the importance of refining your shapes before you move to in-engine work.
Secondary Shapes
New colors and little shapes will help with the bubbly, playful feeling of this animation! Use secondary shapes to give your primary ones a little extra pizzaz.
FX Polish & Glow
At this stage, it's time to polish our animation by adding a little motion to our gradients and mixing in some glow.
Bubble Charm FX Timelapse
Watch the raw timelapse of Alex Redfish's bubbly charm animation process without any narration.
Cyber Tech Slash
8 Lessons
Whether you call it technomancy, user interface, or cybernetic tech magic, effects in this style will require a different approach than more organic FX.
Let's travel into the future and make a cool cyber tech slash effect with Alex Redfish!
BUY NOW
Cyber Tech Slash Primary Motion
Create geometric non-organic shapes and explore different brushes and shape tools to create clean mechanical and consistent negative shapes used for tech-influenced FX.
Resolve Shapes
Learn the usefulness of line tools to create clean geometric shapes.  Learn which useful tools to use to make refined shapes during the early design stages to reduce the amount of time needed for cleanup.
Tech Slash FX Cleanup
Learn different ways to polish your FX animation! Clean up the effect by creating consistent shapes with sharp edges using the line tool.
Secondary Shapes
Learn about the tools Alex uses in Adobe Animate to make his geometric secondary shapes.
Accent Shapes & Color
Dive into the accent shapes around the effect and learn how to tweak color to make the secondary shapes stand out.
Gradient & Glow
See how different layers and effect properties are used to finish the effect with gradients and glows.
Cyber Tech Slash FX Timelapse
Watch the raw timelapse of Alex Redfish's Cyber Tech Slash animation process without any narration.
Color Tweaks Timelapse
Watch the raw time-lapse of Alex Redfish's final color adjustments for his Cyber Tech Slash, without any narration.
What members say about VFX Apprentice
Bruno Cano
VFX-A All Access Member
Joining VFX Apprentice was, for sure, the best decision I've made in my early VFX career. The courses are great and the mentors and students are always trying to help. I just love being here!
Ron Anati
VFX-A All Access Member
Been in love with game VFX since I can remember. I joined VFX Apprentice after a LONG time thinking about it, and loving every moment of it, studying whenever I can.
Learn 2D and 3D FX with VFX-A All Access
All 2D FX, 3D VFX, and Advanced courses are included with VFX Apprentice All Access. Learn stylized and real-time FX from professional artists and animators.
LEARN MORE
Is this course sold on its own?
What software is required?
How does the training work?