How to Become a VFX Artist for Games
Nov 20, 2023
Kickstart your career as a VFX artist with our new FREE course, The Beginner's Guide to VFX.
Here at VFX Apprentice we often get the question: "I really want to learn effects, but where do I start?" This is your starting point! Meet The Beginner's Guide to VFX, a FREE course with 3+ hours on all the basics of the VFX industry. You will learn about the various departments, game styles, tools, and systems used to make stylized effects for games.
There are so many different directions and facets of this industry that taking the first step can often be the hardest part. So, let's dive in and talk about how to learn VFX and how to get started on this journey of building an FX career.
From Zero to FX Hero
This moment right now, this is Level Zero. So what do we mean by Level Zero? Well, we've been teaching for a long time. Our CEO and Founder Jason Keyser has been making effects since about 2007. Following his passion for FX education, he left Riot Games to commit to building VFX Apprentice. He's had a lot of experience with teaching and one thing that he's learned is that there's a beginning point that people have that often those of us who are more experienced tend to take for granted.
If you're in a spot where you've never made digital artwork before, or you've never opened a game engine, you might not even know what a game engine is or how game development works. This is the starting point for you, Level Zero!
We're beginning before the beginning. With this course, we're going to go over terminology. We're going to discuss what it means to work on a game development team. Some questions we'll tackle and answer throughout your journey with VFX Apprentice:
What are the different roles and responsibilities?
How does game development even work?
How does one truly LEARN how to make an effect?
What are the different components and things that are going to go into your education?
What can you expect?
What kind of mindset does it take to be an effects artist?
These are the kinds of things that we're going to talk about to introduce you to the world of effects animation, and it is an amazing world! We're so excited for you to get on this journey with us because effects in general are a very broad spectrum.
So if you're somebody who easily gets bored doing the same thing over and over again, this is perfect for you! Effects animation is such a variety of different day-to-day types of things that you're going to be working on. You're never going to get bored. There's always something new and interesting to learn about and essentially we are students of the natural world around us. We harness the elements, things like fire, water, and smoke, and turn them into animations.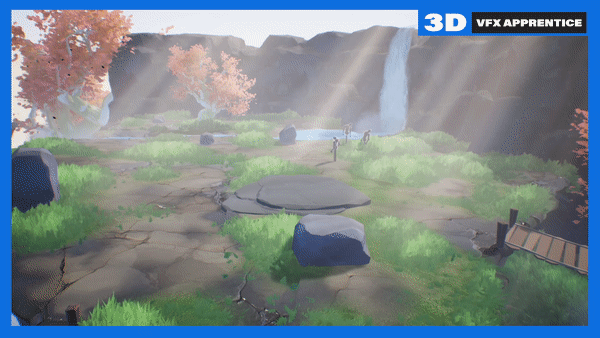 Fire Explosion from Booms and Blasts

Here at VFX Apprentice, you'll find we constantly implore students to study the world around them. Go outside, listen to the wind, watch how things move, and interact with their environment. We believe this is one of the greatest assets a VFX artist can possess; an acute awareness and appreciation of how objects move and interact with each other.
Whether it's for video games, television, or film. This series is going to be a great starting point for you to get that foundational training. The training that comes before the foundation. Think of it like if you're building a house before you pour the concrete, you have to clear out some bushes, maybe chop down a tree, flatten the earth, and get it prepped to put the foundational knowledge on top.
That's what this series is really for. It's the beginning before the beginning. We're super excited for this series. It's going to be a totally free course to lead you toward our All Access courses where we have a full curriculum built out. We're going to take you from the basic basics, moving right along into what it is to be an advanced effects artist. We have a whole ecosystem that we're so proud of at VFX Apprentice. We even have studio experience as recently as yesterday, and we can help you with that experience. We can show you what it takes to get a job in a studio because we have that background ourselves!
More Like This
---

Learn VFX for Games and Animation
Are you ready to elevate your VFX skills and work on video games and animated projects like the pros? Our VFX courses are led by FX industry leaders who will not only guide you through fundamentals, they will prepare you to work at leading studios and VFX houses.
Start Your VFX Apprenticeship
Begin your journey towards mastering FX for games and animation. Join VFX-A All Access and discover cutting-edge 2D, 3D, and real-time FX training. 
Browse FX Courses